The Egg House Butchery
Mail Order Service Available. Please contact us for details.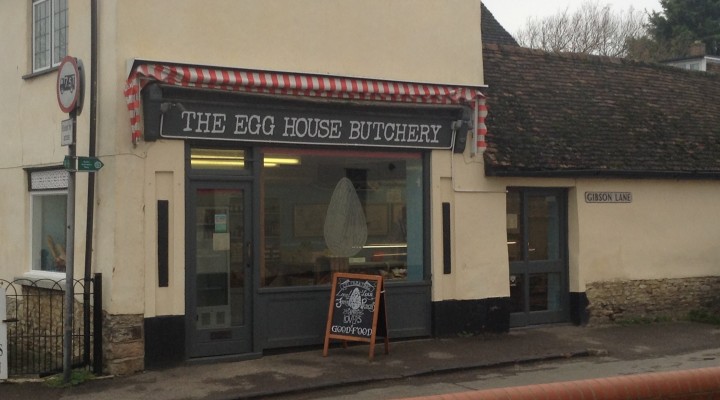 The Egg House Butchery is an award-winning, independent butchers run by Emily Jeffrey.
The shop overlooks the village green at Church End in the village of Haddenham in Buckinghamshire. There has been a butchers on the site for around 250 years, and we are very proud to be the next chapter for the shop.  When the opportunity to buy it came in 2015 we leapt at the chance; the reception from the surrounding community has been overwhelmingly positive.
We are the Countryside Alliance's Champion Butcher in the South East; something we are extremely proud to have won earlier in 2018.
The business started life in 2013 in an old egg inspection house on a former turkey farm (hence our unusual name) with the aim of selling locally produced meat to the local community via farmers markets and online orders. We have since built up a reputation for high quality produce sourced from local farmers and producers.
Our 100% pasture-fed beef is supplied by Hogshaw Hill Farm and Hornton Grounds Farm. It is, quite simply, the best beef we have ever seen! We hang all our beef for a minimum of two weeks (for cuts such as chuck steak) up to about six weeks for prime cuts such as ribs and sirloins. We believe this is essential for the quality and flavour of the beef that we sell.
As well as the pasture-fed beef we also sell other locally reared meats from farmers and small-holders:
Our lamb is currently supplied locally from two farms and a small-holder, and we are hoping to be able to sell mutton in the very near future too.
Our pork is all free-range, again supplied by a local farm and a small-holder from 5 miles away in Cuddington.
Our superb free-range chickens and turkeys are supplied by Potash Farm in Tring.
We are extremely proud to be supporting local farmers, and to be building links within the local community with the farms which surround us.
If you want to see more about what we do please follow us on Instagram @theegghousebutchery
Contact Details
Address: The Egg House Butchery, 2 Station Road, Haddenham, Aylesbury, Buckinghamshire, HP17 8AJ England
Telephone: 01844 291 480
Email: [email protected]