Rose Dale's Organic Farm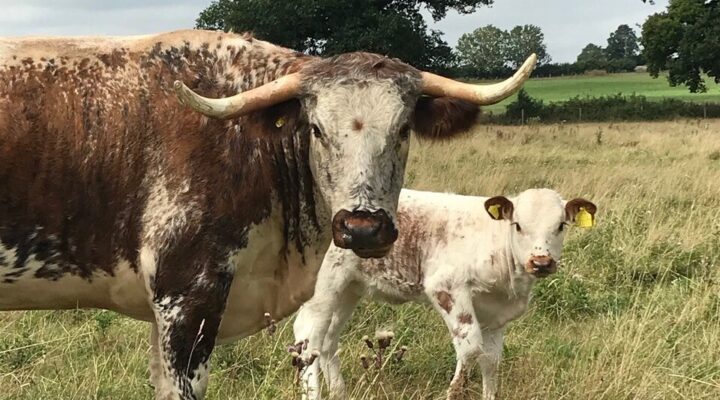 I have recently taken over my parents farm and have converted the whole to organic with most of the farm as pasture, in awareness of the benefit that long-term pasture offers in restoring the soil health, greatly enhancing biodiversity and capturing carbon. I firmly believe that sensitively-grazed and produced ruminant livestock are an essential part of our farming system. PFLA captures the holistic and ethical treatment of the livestock and the farm environment, whilst ensuring nutrient rich healthy food for people.
The farm is in a river valley which is a tributary of the Thames only 50 miles from London and, with its flood meadows and heavy clay soil, pasture is appropriate.  The permanent meadows along the river are home to a variety of wetland birds including lapwing and snipe.
We have planted herbal leys on formerly arable land which I plan to allow to develop into diverse permanent pasture and we have plenty of laid hedges and trees across the farm. Future plans include the creation of more wetland ponds and scrapes and more tree planting in the pastures themselves not just around the margins.
I have a small herd of pedigree longhorns which have just had their second calving and the young stock are growing on slowly, fed purely on pasture.
I also have small flocks of Oxford Downs, Greyface Dartmoors and Gotlands which have recently lambed for the first time. I am interested in producing sheepskins and wool along with the organic rare breed meat.
I am selling my regeneratively farmed, ethical meat directly and have lamb, hogget, mutton and beef, all subject to availability as I do not buy anything in. Please contact me for details.
Contact Details
Address: Manor Farm, Chearsley, Aylesbury, Buckinghamshire, HP18 0DH England
Mobile: 07535611919
Email: rose@rosedalesorganicfarm.com