Wester Logie Farm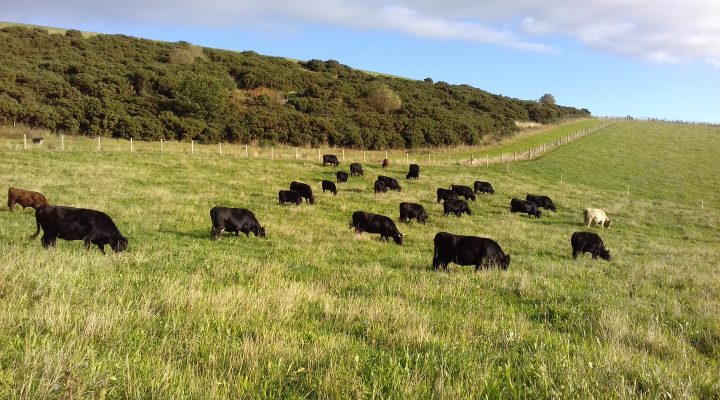 Hello. We're Kate and Robert and we have a small organic farm up in North Fife near St.Andrews where we have a herd of about 50 pedigree Dexter cattle and a flock of  Boreray sheep.  All our cattle and sheep are 100% grass fed and we are Organically certified by the Soil Association.
Dexter cattle are a small, native breed (descended from the small, black cattle of the Celts) and produce delicious, juicy, marbled beef. They spend their entire lives outside on our farm, grazing on our clover, herbal and wildflower rich pastures and woodlands. Being a small breed means that all the joints and cuts are of an ideal family size.
Boreray sheep were the original St.Kildan sheep and are extremely tough and hardy. They shed (or 'rue') their own fleece and are great mothers and, contrary to what is thought, they flock and can be easily handled with a sheepdog! They are also 100% grass fed and we sell the meat as 'hoggett' (a sheep between 12 and 24 months of age) or as 'mutton' (a sheep older than 24 months).
As we are Organic, we use copious amounts of white clover in our fields to fix the nitrogen. We've also sowed lots of chicory (which produces a beautiful blue flower), plantain and many different types of herbs and wildflowers into our grass fields and margins - all of which is great for birds, bees and other pollinating insects as well as proving a wide and varied diet for our cattle and sheep. We have also started experimenting with silvo-pastural grazing, where the let the cattle into our mixed woodlands to both graze the grass and leaves and to spend the winter.
We currently sell all our Dexter Beef locally, via a box scheme. Each box typically weighs about 10kg and consists of a variety of cuts from roasting joints and steaks through to mince and diced. All the beef is hung and butchered by our local artisan butcher and will be vacuum packed, labelled and ready either for eating or freezing. Food miles are minimal.
If you are interested in a Dexter Beef Box or Boreray sheep or have any other queries please contact us via the email below and we would be delighted to answer any questions.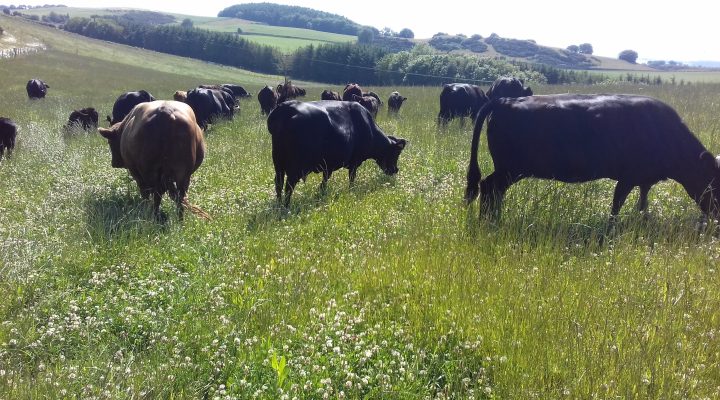 Dexter cattle grazing in a field of clover.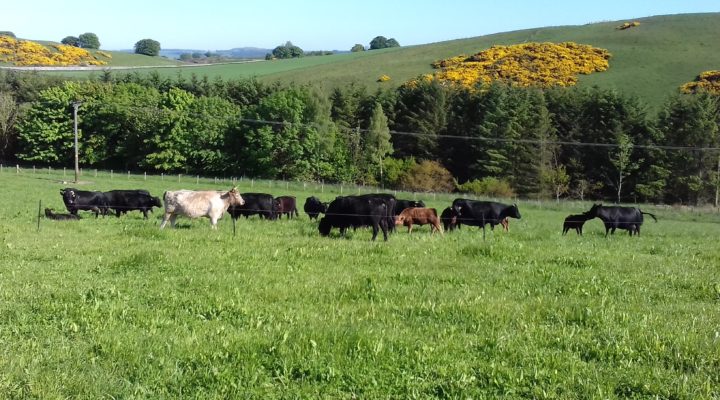 Dexters grazing in front of the woods and whin.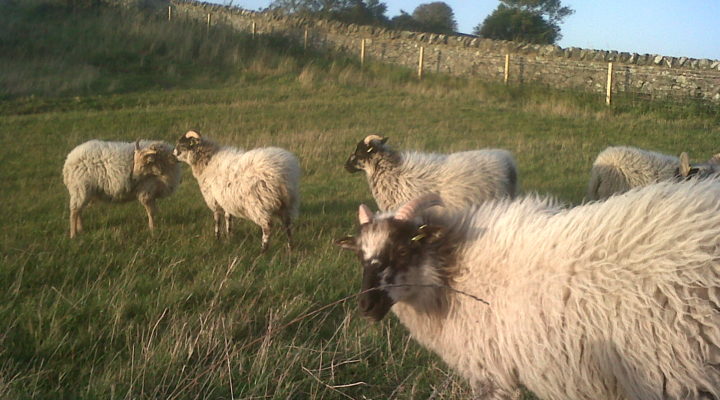 Some of our Boreray sheep. Very hardy, they shed their own fleeces and are great mothers.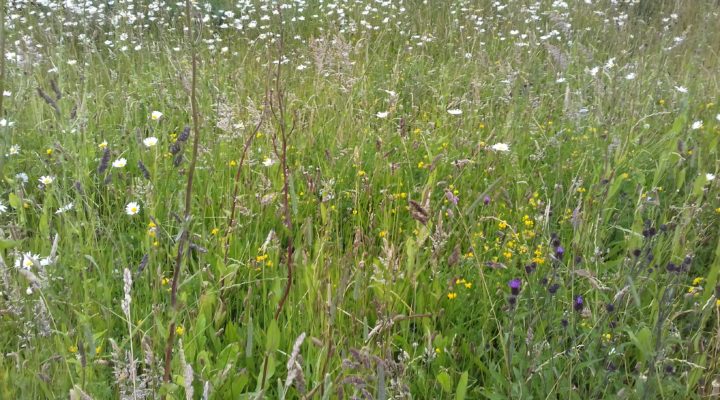 Wildflowers growing in our fields. Great for bees and other pollinators. After flowering, we'll either let the Dexters graze this or we might cut it for a late crop of hay.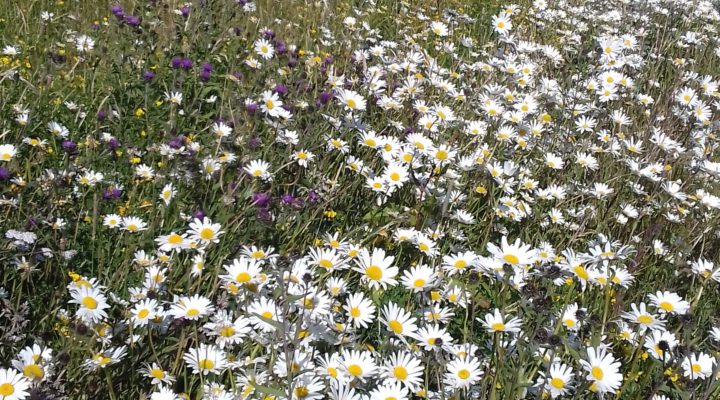 Late summer and the wildflowers are in bloom. The field was alive with the peaceful sounds of buzzing insects.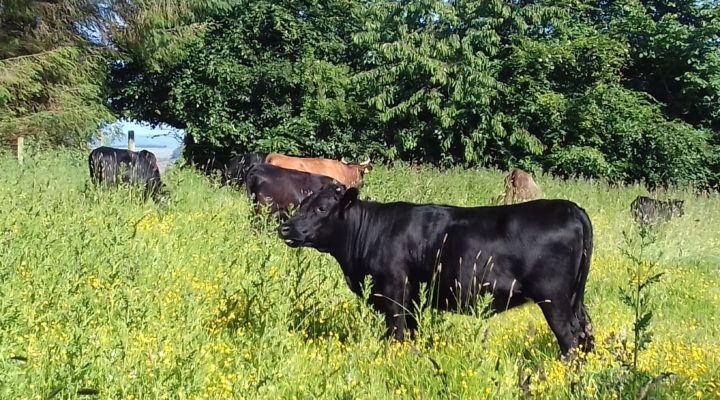 Dexter cattle deep in the summer grass.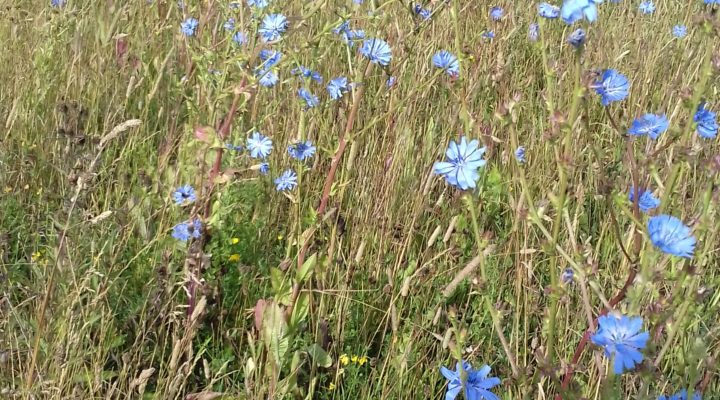 Chicory in flower - not only beautiful to look at but great for bees. After this finishes flowering, we'll cut it for hay and feed it to the Dexters over the winter.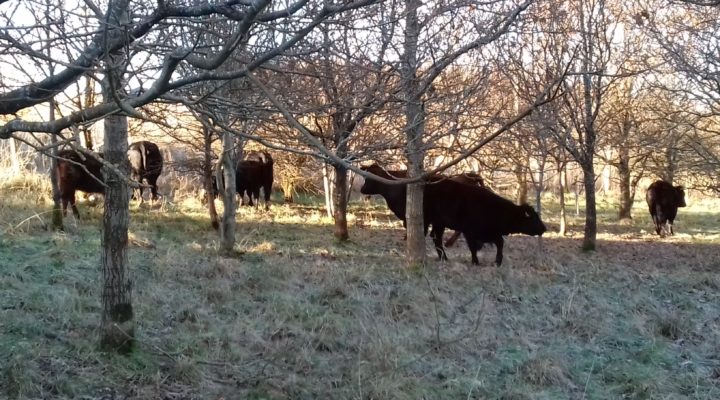 Mid-winter silvo-pasture - Dexter cattle in the woodlands where they can graze on the rough grasses and scratch on the tree trunks as well as get some shelter from the elements.