Lilliput Farm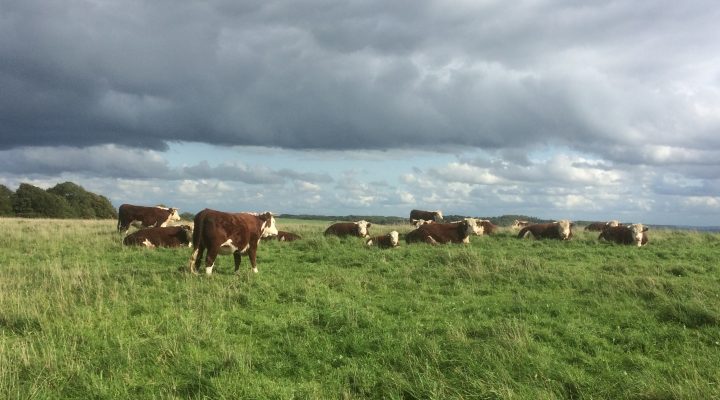 We farm 68ha of grassland in Cold Ashton parish. We have been in a Higher Level Stewardship  for 20 years on 23ha of limestone grassland and OELS on the rest; all hedgerows have been restored. We have been Organic Certified for 10 years and fully Demeter Biodynamic Certified for 7. We are Farm Assured with Red Tractor. We keep pedigree Traditional Hereford Cattle and pedigree Hampshire Down Sheep. We outwinter all stock with barn access and feed our own hay/haylage. We keep our steers to 3 years old, for good marbling, and  our wethers to 1 or 2, for hogget or mutton.
We have both upland and valley pastures, which we use in the traditional way: grazing the uplands in the summer to avoid flies bothering the cattle and sheep, then bringing them down for the autumn and winter. We cut hay from the valley fields in July to encourage wild flower seeding. Most of our fields have spring water from St. Anne's Well or St. Eanswythe's Springs.
Cattle and sheep bones were found in excavations from our barrows in 1909, showing that they have been farmed here for millennia.
Contact Details
Address: Lilliput Farm, Lower Hamswell, BATH, Gloucestershire, BA1 9DE England
Telephone: 01225 892 362
Mobile: 07850 708 652
Email: oliver@ohstanley.co.uk