Crossroads Farm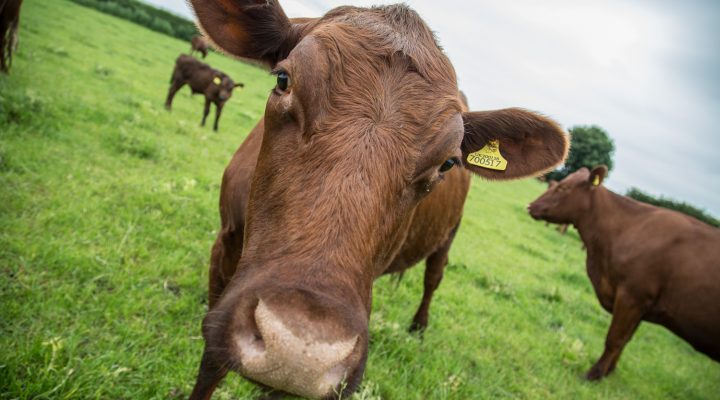 Crossroads Farm 
Alan & Jane Hewson farm the red land at Eastwell on what used to be an ironstone quarry, following Alan's grandfathers example of testing the soil & caring for it they grow mixed grass & herbs, including clovers, chicory, yarrow, plantain, and are seeking to build the fertility of the soil.
Their cows are predominantly Native Red Polls with the milkers keeping their calves until they are naturally ready for weaning, Alan has kept some Rare Breed Cows for many years & recently has been working more closely with RBST to  help keep Original Population Dairy Shorthorn viable.They also milk Blue Albion & Kerry Jersey & Guernsey cows.
Belvoir Ridge, the farm's dairy, has been selling raw & pasteurised milk for some years now & since 2013 have been creating & selling local cheeses,in the Nottingham & Leicester area.
Alan offers a beef, whey fed pork & veal box scheme locally.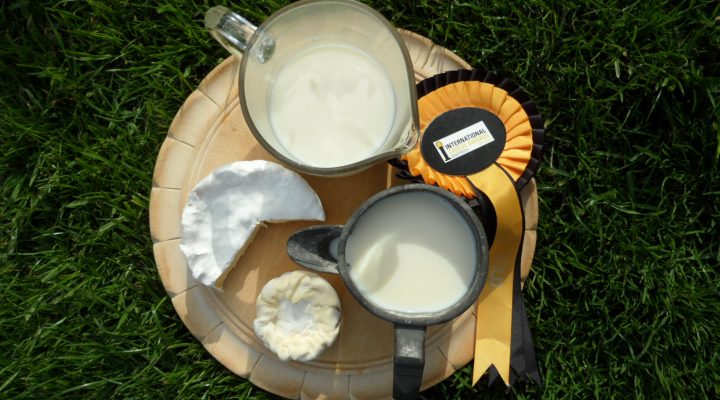 Belvoir Ridge Creamery.......our on farm Dairy
Are delighted to have won Champion Milk in Show, Nantwich @icheeseawards2014  also gold for Rutland Slipcote (a white mould ripened cheese) 2015 & silver for Colwick Cheese 2015.
The Artisan Cheese Fair which is held in Melton Mowbray on the first bank holiday of May (Saturday & Sunday) is a great time for Alan & Jane to meet many customers. Rutland Slipcote was voted peoples choice cheese 2016, with over 50 Artisan Cheesemakers represented.
Colwick Cheese is a Slow Food (Forgotten Food) we are looking forward to taking our milk, cream, & Colwick to the Slow Food Festival at Bra Italy September 2017 courtesy of Gelato Village another Slow Food Producer.
We are working with RBST to keep Native & Rare Breed Cows milking, they are 60% more efficient at converting pasture to meat & milk than contienentals.
Currently we are milking mainly Red Polls also Kerrys, Albions, Jersey, Guernsey, Original Population Dairy Shorthorn & Dairy Shorthorn.
We are pleased to supply Gelato Village in Leicester with milk & cream, Hambleton, Bakery,Hambleton Hall & Harts with milk.
Reusable containers are used for our commercial customers to help keep plastic pollution to a minimum.
Our products are available via the Food Assembly in Nottingham.
Delilahs, Nottingham & Leicester & for other retail outlets in the area please see our website below for details.
Our products are also available on farm 7 days a week, with a milk vending machine (bring your own container) or buy one of ours for £2.
Cheese can be ordered via www.cheeseshop-nottingham.co.uk
new website coming soon...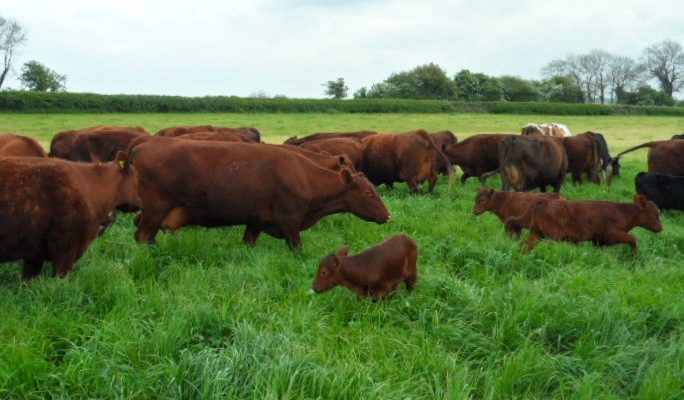 Since starting mob grazing in the spring of 2017 we have noticed there are more wild flowers in the grass, its easier to control weeds,  increasing amounts of all kinds of insects (paticulary dung beetles which are breaking down the cow pats quickly) .The cows love to have fresh grazing daily, on our light land we usually have to feed in August but still have lots of forage for our girls.
Grass has obviously self seeded & looks like being better next year...fascinating.
Contact Details
Address: Crossroads Farm, Scalford Road, Eastwell, Melton Mowbray, Leicestershire, LE14 4EF England
Telephone: 01949 860242
Mobile: 07436 817 413 Alan Jane 07918 715 673
Email: jane.hewson@btconnect.com