Mill Farm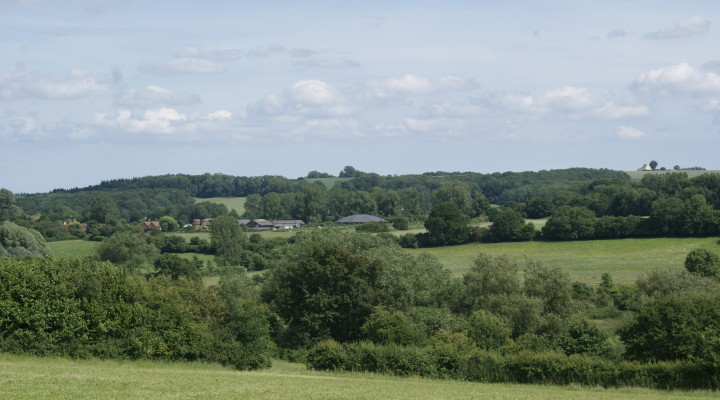 Mill Farm is situated in the tranquil hamlet of Isington in the North of  Hampshire. The farm has been managed organically for over seventeen years and is certified by the Soil Association. We have an onsite butchery and farm shop which stocks our own meat as well as a wide range of other organic or locally produced goods.
The farmland totals 230 hectares and is characterised by gentle hills interspersed with pockets of ancient woodland, connected by many miles of both ancient and more recently established hedgerows. The River Wey – a chalk stream, meanders gently through the land, adding to the rich and diverse mixture of habitats found on the farm. The farm has a strong environmental focus, currently supported by an OELS / HLS land management agreement.
The farm is cropped with a diverse mixture of pasture, including traditional water meadows, permanent pasture, and red and white clover and herb rich leys. The aim of the farm is to produce and sell exceptional quality meat from a pasture based organic farming system.
A flock of 400 Black Welsh Mountain and Wiltshire Horn / Easycare sheep provide succulent lamb, hogget and mutton produced entirely from pasture.
Beef is provided by a herd of 90 South Devon and Aberdeen Angus suckler cows. These are not entirely pasture based at present as some of the rangier fattening animals are fed a small amount of homegrown cereals during the winter. The aim is to become entirely pasture based in the near future.
A small herd of Saddleback and Tamworth pigs are rotated around the fields and provide delicious pork, bacon and gammons.
Contact Details
Address: Mill Farm, Isington, Alton, Hampshire, GU34 4PN England
Telephone: 01420 22331
Mobile: 07495165796
Email: farm@millfarmorganic.com