Smiling Tree Farm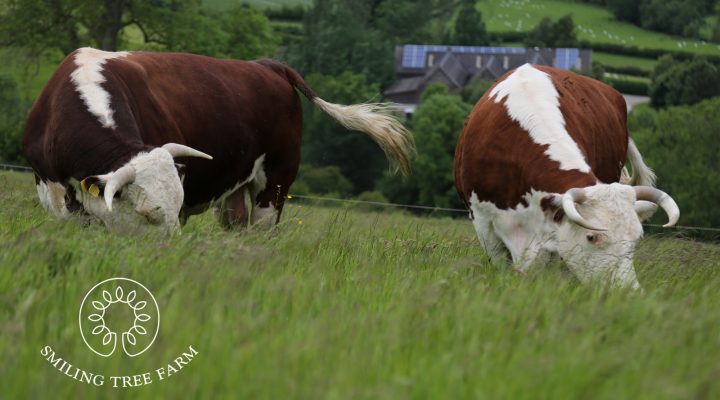 At Smiling Tree Farm we produce delicious nutrient-rich beef and milk from our 100% grass-fed animals and sell direct to customers who like proper food.
Our vision is to produce food naturally from contented animals, and to provide that food to like-minded people who take seriously both their health and the honestly sustainable production of food.
To find out more about Smiling Tree please visit our website, you can also read our blog and join our email list.
TRADITIONAL HEREFORD CATTLE
At Smiling Tree Farm we have a closed herd of original population Traditional Hereford cattle 100% grass-fed and raised slowly on our organically managed pastures. These include wildflower meadows, herbal pastures and diverse permanent grasslands.
Our beef has an exceptional depth of flavour that is due to the animals' slow maturing on a varied and wholly 100% pasture diet with no grains, root crops, brassicas or silage. The meat is dark in colour and rich in nutrients, minerals, vitamins and heart-healthy fats.
Our beef is the perfect paleo food.
ABATTOIR, HANGING & BUTCHERY
We use a very small, family abattoir. Beef is hung for 21-28 days, depending on the size of the carcass, fat cover and careful observation of the ageing process. Finally, the meat is cut in our state-of-the-art butchery here at Smiling Tree by an experienced  local butcher. This ensures that our careful consideration of and attention to the nurturing of each animal throughout its life continues all the way to the final stage of cutting and packing the meat.
ORDERING & PACKAGING
We sell beef fresh as a selection of cuts in packs and frozen from our Farm Shop. As our herd is small and we only produce slow food, we don't have a constant supply all year. Please check our website for current availability, pricing and to place your order or enquire.
The meat is sold packed, labelled and ready to cook or freeze.
RAW DAIRY
We run a cow-calf micro-dairy and are licenced to sell raw A2 milk from our 100% grass-fed Jersey cows. The herd grazes our diverse, organically managed pastures throughout the year and are milked individually just once a day to produce delicious, nutrient-rich milk from cows who raise their own calves. Each bottle is labelled with the cow's name, so you know exactly which cow produced your milk.
Our raw A2 milk is from cows individually tested to ensure they only carry this ancient gene. We also sell artisan handmade raw butter. To find out more about these very special products, visit our website.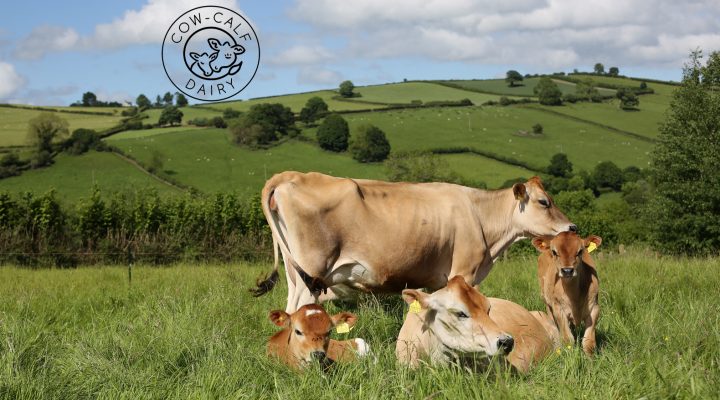 OUR CORE VALUES
As a reflection of our core values, the animals at Smiling Tree live natural, contented lives and are treated with compassion and respect. We have chosen native breeds that thrive in our natural system using our pastoral farming methods, which also regenerate the land, build soil resilience and protect the environment for future generations.
If you would like to try our delicious produce then please visit our website as we only have limited supply and you may need to pre-order.
Contact Details
Address: Smiling Tree Farm, Chapel Lawn, Bucknell, Shropshire, SY7 0BW England
Telephone: 01547 530 955
Email: christine@smilingtreefarm.com