Ruscombe Farm Partnership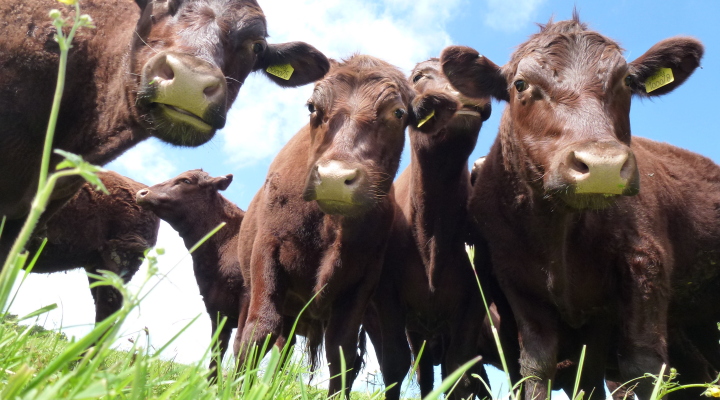 Ruscombe Red Polls are a herd of Pedigree Red Poll cattle, kept a couple of miles outside Stroud, Gloucestershire.  This herd is the 2013, 2014, 2015 and 2016 winners of the Best Small Red Poll herd in the Southern England, and 2015 national winners of the Best Small Red Poll herd, as judged by the Red Poll Breed Society.  They are owned and managed by husband and wife team, Richard Spyvee and Rebecca Charley.
They are managed for beef as a suckler herd, using the heifers as herd replacements as needed and selling the remainder for breeding to other Red Poll owners with the bullocks going for beef at between 24 and 30 months.  In 2015 and 2016 the beef has been awarded the Fine Farm Produce Award by the National Trust, with comments such as "the topside joint was absolutely gorgeous and sweet.  Smells of toffee and butter".
This year, 2016, Ruscombe Farm has reached the final of the Taste of Gloucestershire awards to be announced in October.
Richard and I manage our pedigree Red Poll herd as a small self contained suckler unit. They are grazed on 70 acres of herb rich pasture, under higher level stewardship, around the valleys of Ruscombe and Randwick. They are kept together as a family group with the majority of the heifers being sold for breeding and the steers being kept on for beef.
We hang the beef for at least a month then vaccuum pack and sort into mixed beef boxes that are collected fresh from the farm ready for freezing.
The cattle graze a fantastically herb rich pasture, recently designated a County Key Wildlife Site, and other Higher Level Stewardship land owner by the National Trust.  In our management we look to enhance the conservation of the land as well as creating the best tasting beef around and keeping the cattle in a relaxed and as natural as possible way.
Contact Details
Address: Ruscombe Farm, Ruscombe, Stroud, Gloucestershire, GL6 6EG England
Telephone: 01453 766191
Mobile: 07770 880 934
Email: [email protected]