Wye Organic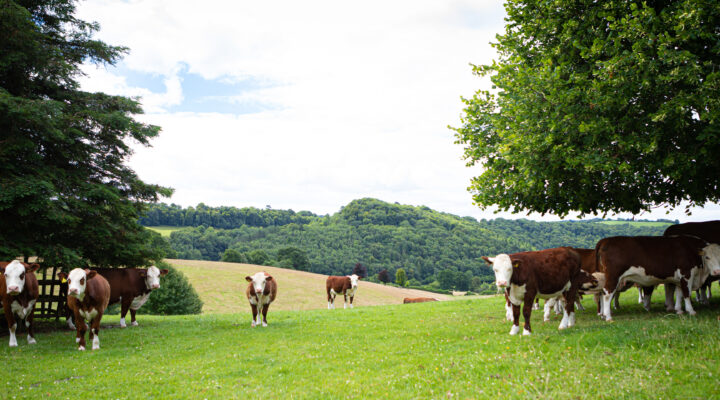 Wye Organic is based in the heart of the Wye Valley AONB on the Herefordshire/Gloucestershire border.
We aim to produce high-quality food, using methods which nourish our soils and
recognise the moral imperative of animal welfare.
We produce healthy, nutrient rich food, using practices which are beneficial to our
environment. Organic farming is at the heart of our system and we have been farming this
way for the past 20 years. Our methods aim to nourish the soil and protect local ecosystems.
Farming in a way that works with nature, not against it.
Synthetic fertilisers, herbicides and pesticides have no place in our system nor does the
industrial factory production of animals. Sustainable farming is where production is in
harmony with nature and the soil becomes the source of life, from unseen micro-organisms
and fungi, through the smallest of insects and birds to the mammals we all love to see. That
is the why in organic.
Because your health and the health of your environment comes from naturally grown food.
Our Pedigree Hereford cattle and Easy Care sheep (and wild deer) thrive by grazing in mixed
pastures on a variety of grasses. They live outside all year and are left to grow at their own
pace, without supplements, simply eating the pasture and our home grown forage. Our animals benefit from a high level of traditional animal
husbandry, so they can live unstressed in nature.
Traditional animal husbandry plays a key role in the health of our soil. Timely grazing and
the recycling of nutrients from animal dung, are essential to sustaining the health of soil and
its ability to build-up and retain carbon and organic matter.
Pasture reared animals produce healthy nutrient dense meat, high in Omega oils, while
playing a key role in sustaining and building our ecosystem and environment.
We sell our meat locally, delivered to your home as well as supplying restaurants www.wyeorganic.co.uk .
Contact Details
Address: Wye Organic, Home farm, Welsh Bicknor, Ross on Wye, Herefordshire, HR96JJ England
Mobile: 07809277337
Email: kitty@wyeorganic.co.uk