SPRING FOOD LIMITED
Mail Order Service Available. Please contact us for details.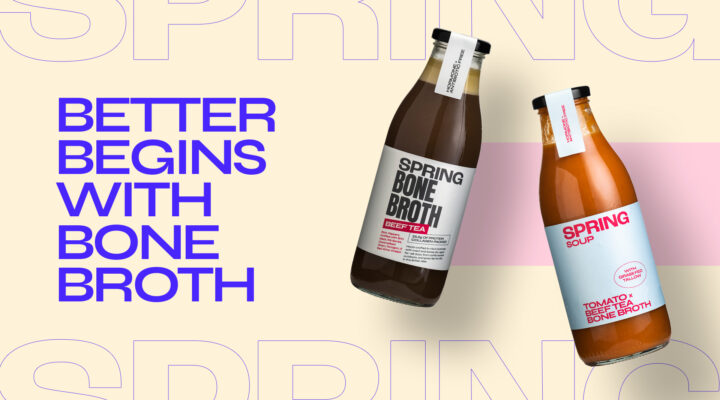 SPRING – BETTER BEGINS WITH BONE BROTH
Spring create bone broth in micro batches, made from all natural ingredients, sourced from sustainable farms, using sophisticated recipes inspired by the precision and creativity of the world's most innovative chefs.
A nutritionally dense daily intake, consumed as a hot drink alternative or used in cooking as you would stock, bone broth will help you meet the demands of modern life.
Using expertise and production infrastructure Spring have also launched - Bone Broth x Soup.
We believe this to be a unique offering in the category with each flavour in the collection offering:
+40% content of a caramelised or roasted single vegetable variety

Only soup collection in the UK to use a natural stock or bone broth base

Collagen stabilised - no starch, yeasts, thickeners, maltodextrin or palm oil
Our meat and bones are sourced from a small collection of low-impact British farms with impeccable welfare and sustainability credentials, including all beef being PFLA certified, using regenerative farming practices.
Sold online, in market stalls in central London, and at specialty independent retailers in London and throughout the UK.
Our mission is to create a better future of food and reset the trajectory of the food industry, all whilst helping to restore the natural environment, using produce that would otherwise be wasted.
Contact Details
Address: SPRING FOOD LIMITED, Unit 15, Five Tree Works, Bakers Lane, West Hanningfield, Chelmsford, Essex, CM2 8LD England
Telephone: 07572915696
Mobile: 07572915696
Email: accounts@springbroth.com