Massingberd-Mundy
Mail Order Service Available. Please contact us for details.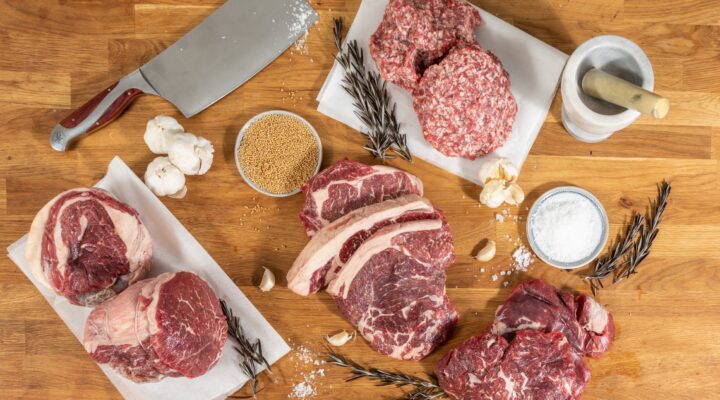 Our Beef
South Ormsby Estate is the home of Massingberd-Mundy, where world-class farmers and artisanal craftspeople come together to bring to life our local, premium products. From hand-crafted gin to grass-fed beef, all produced in the heart of the Lincolnshire Wolds to the highest of standards.
Our Lincoln Red Beef is butchered close to our home in the Lincolnshire Wolds, before being vacuum packed and frozen for freshness. Our Massingberd-Mundy Lincoln Red Beef Boxes can be ordered through our website, and offer a range of cuts all in one box. Perfectly versatile, for everything from quick weeknight meals to a fantastic Sunday roast, our boxes are insulated with sheep's wool and delivered free of charge.
For more information, please visit our website at www.southormsbyestate.co.uk/beef
Our Herd
Our original population Lincoln Reds date back to the eighteenth century, and their genetic base can be traced back to the Viking invasions of 440-660 AD. Despite these ancient origins, there are thought to be just several hundred original population Lincoln Reds around the world today. 
To help these highly valued cattle recover from the brink of extinction, South Ormsby Estate is using sustainable practices to support the growth of what is now one of the largest herds of original population Lincoln Red cattle in the world. 
From a small herd of just 25 cattle at the start of the millennium, our herd now numbers in excess of 300; all of which are pure original population Lincoln Red. 
The cattle, which have a subtly different appearance to the more common variants of the breed, leisurely graze the fields of the Estate. 
Lincoln Red cattle are a part of our history. They're beautiful animals with vividly coloured, fluffy coats and people in Lincolnshire are rightly proud of them. Within a few years we hope to grow the herd to around 600 but only through sustainable and ethical farming techniques which respect the heritage and history of the Estate and its ancient breed of cattle.