Upper Leigh Farm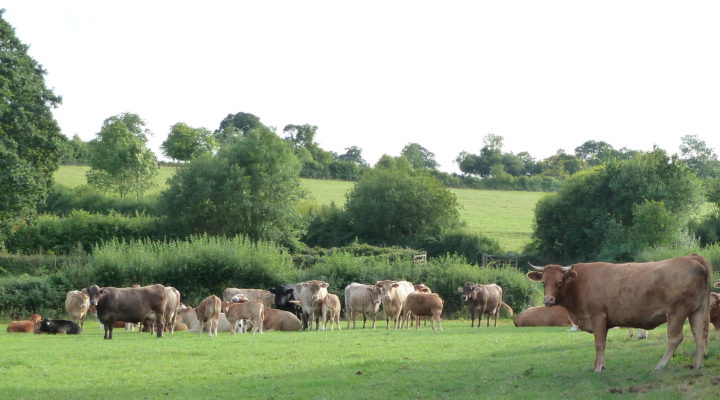 Upper Leigh Farm has been owned and managed by Nat and Katie Page since 1995, and became fully organic (Soil Association) in 1997.
We have been using a grass-only system, based on species-rich permanent pastures and meadows, for over 10 years. We became a certified Pasture for Life producer and seller in 2020.
Upper Leigh is an all-grass farm, 160 acres of permanent pasture and meadow rich in grass and herb species, divided into 16 fields by miles of ancient hedges. It supports a breeding herd of 40 South Devon cattle, in the process of pedigree registration. We have fed only farm grass or farm-grown hay and silage since 2005 - no feed is bought in, no grain is fed.
Cattle are all born on the farm, and never leave the farm until sold as stores or killed for top-quality meat.
We sell meat direct from the farm, butchered and vacuum-packed expertly by Blackmore Vale family butchery.
Yearlings by the 16th and 17th century farmhouse
The flower and herb-rich meadows all surrounded by ancient hedges
Contact Details
Address: Upper Leigh Farm, Leigh Lane, East Knoyle, Salisbury, Wiltshire, SP3 6AP England
Telephone: 01747 830 834
Mobile: 07712 828 216
Email: npage@copac.org.uk