Deersbrook Farm
Mail Order Service Available. Please contact us for details.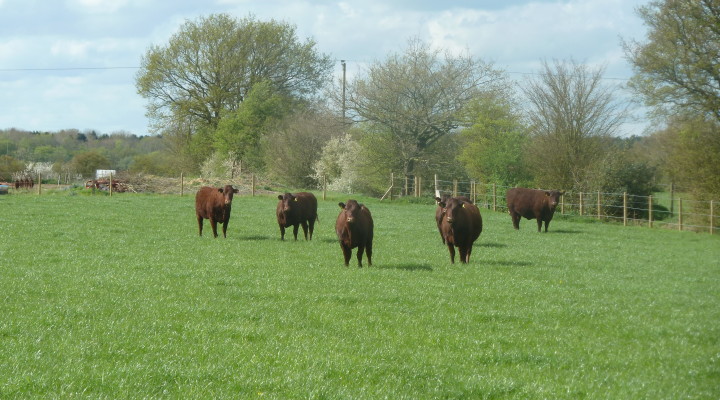 We are a family run farm in the beautiful Essex countryside. Our family have farmed for generations and we are now producing high quality native, pasture-fed beef. Our native herd of predominately Sussex cattle graze out on ancient pastures, including heritage sites such as Marks Hall.
We favour the Sussex breed of cattle due to their docile nature and meat quality. We have a prize winner Sussex Bull and herd of 40 cows and heifers. The cattle slowly mature on grazing land,  naturally on our farm delivering prime succulent, well marbled meat that is full of flavour. Just how beef should taste. We mature the meat naturally on the bone, dry aging for at twenty eight days. This benefits the meat, resulting a rich flavoursome beef that is beautifully tender. You can tell just be sight with its rich plumy flesh and yellow creamy fat.
These traditional English cattle really are fantastic all round cattle producing some of the best beef we've ever tasted.
We sell individual cuts as well as a variety of meat boxes, either online or direct from the farm. You can come along to the farm each Friday 9.30am - 6.30pm to collect orders and purchase our beef.
We also take part in Open farm Sunday each year in June, to give everyone a chance to come and see the farm and animals for yourselves.
Phil and Anna
Essex based family run farm, producing high quality grass fed native beef directly to you
Contact Details
Address: Deersbrook farm, Littles lane, Shalford Green, Braintree, Essex, CM7 5AZ England
Telephone: 01371850671
Mobile: 07766543493
Email: deersbrookfarm@btinternet.com