Grimblethorpe Hall Butchery
Mail Order Service Available. Please contact us for details.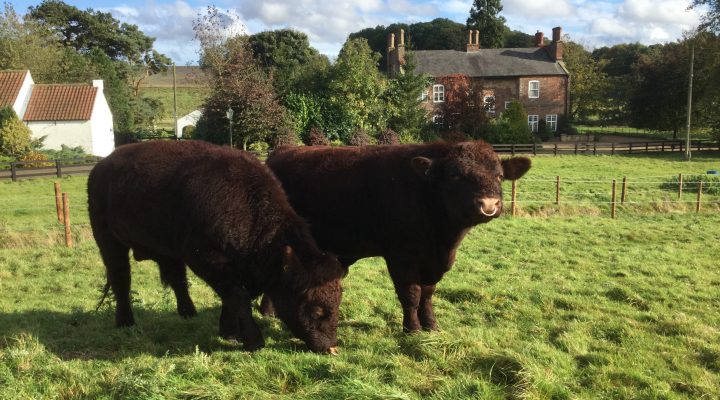 At the Grimblethorpe Hall Estate, we produce succulent Rare Breed Beef from our herd of native Pedigree Lincoln Red 'P' Cattle and Rare Breed Lincoln Longwool Hogget and Mutton.
Situated in the Lincolnshire Wolds, an Area of Outstanding Natural Beauty, our cattle and sheep are fed on a wholly 100% pasture diet with no grains, root crops or brassicas.  They graze on the meadows in our chalk stream valley that once included the Medieval Settlements of Grimblethorpe and South Cadeby.
We are very passionate about the Lincolnshire Heritage here at Grimblethorpe Hall, which was built circa 1620AD and now owned by Andy and Nicola Aldridge. That is why you will only see cattle and sheep native to the County grazing in our fields. They spend almost all of their lives outside grazing, unless the weather dictates otherwise.  Our livestock is produced for sale either as Pedigree Breeding Livestock or for Slow Grown Beef.
The vision here at Grimblethorpe Hall, is to produce quality food, naturally from contented animals, that have a good quality of life within a sustainable farming system. That is why our cattle are finished for beef between 28 to 29 months of age and not any younger !
Our farm is a corporate and licensed member of the Rare Breeds Survival Trust (RBST), meaning that every customer purchasing our meats is directly supporting the work of the Trust.
Lincoln Red 'P' (Pure) beef is MARBLED - meaning that small amounts of intramuscular fat (rich in omega 3) runs through the meat which increases flavour and tenderness. The slow growth of our cattle on our heritage meadows just adds to this exceptional quality. Our Beef is hung in a refrigerator for a minimum of 28 days, creating a better flavour and reducing the amount that your joints and steaks will shrink when cooked.
We use a small, family abattoir less than 20 miles from our farm and because we are committed to 101% traceability of our meat then decided to set up our own Butchery at Grimblethorpe Hall. Our Butcher, is Stuart who has over 40 years experience in the business and shares the same passion as Andy and Nicola for providing customers with a quality final product.
The fully identifiable carcases from the Abbatoir are delivered back to us within the week to be hung in our own large refrigerator so we can carefully monitor the ageing process. After 28 days, Stuart uses his artisan butchery skills to produce a selection of traditional beef cuts that are vacuum-packed into a range of 3 sizes of Meat Boxes. We also do take individual cutting requests. Vacuum packing, means the air is removed from the packaging, meaning that the meat will stay fresh for up to 10 days in your refrigerator providing that is is kept between 0-3 degrees C. When vacuum packed meat is opened, any slight smell soon disappears.
The fresh mince needs FREEZING after 5 days as it has been through a machine that raises the temperature of the meat. All meat intended for freezing should be frozen as soon as possible after purchase. The quality of the meat is the same whether it is cooked from fresh or frozen. Once unfrozen, meat must not be refrozen unless it has been thoroughly cooked.
We can supply meat either fresh or frozen. Boxes of fresh or frozen meat can be sent by courier anywhere in the UK.
PACKAGING - we use recyclable cardboard boxes with insulation made from sheep's wool and food grade plastic. Water filled ice sheets are used to keep meat at the correct temperature for transporting.
As our herd and flock is small and we only produce slow grown food, we do not always have a constant supply all year around. Please check our website for current availability, pricing and to place your order or enquiry.
If you are passionate about where your food comes from then the meats from Grimblethorpe Hall is for you !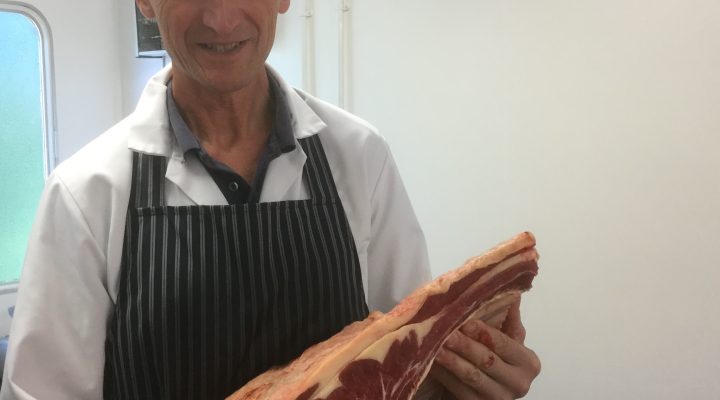 Prepared by our Butcher, Stuart.
A traditional taste of Lincolnshire - Slow Grown 100% Pasture Fed Rare Breed Lincoln Red 'P' Beef available from our on farm Butchery.
Our Butchery also has available Rare Breed Tamworth & Large Black Pork and Award Winning Lincolnshire Sausages produced on the Grimblethorpe Hall Estate from our outdoor pigs.
Contact Details
Address: Grimblethorpe Hall Butchery, Grimblethorpe Hall, Grimblethorpe, Louth, Lincolnshire, LN11 0RB England
Telephone: 01507 313440
Mobile: 07774 637056
Email: enquiries@grimblethorpehall.co.uk